Felt / Icelandic / Wool / Felting batts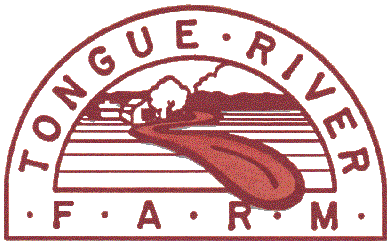 Felting with Icelandic Wool



Rex with felt hat and Ike the Icelandic sheepdog
Click on the picture to enlarge
Icelandic wool is probably the finest fiber you can use for your felting projects in that it is the fastest and easiest fiber to felt. Our felting batts are processed from the shorter spring clip that is taken off the sheep just prior to lambing. This is the fiber of choice as it is shorter than the fall clip and is much easier to felt. The shorter fibers can mingle better than the longer fibers making a stronger and more homogenous felt.
Our felt batts come in the natural colors of our sheep. There are no toxic dyes or bleaches used in the processing of these batts. The combination of tog and thel fibers combine to make an extremely strong felt that is light weight yet wears like iron.


Washed and carded felting batts
in White, Tan and Grey.
Call or email for availability of colors.

Temporarily sold out. More coming in March

$12.50 for 1/2lb. + shipping
---
New Felting book!!
Making Faces using wet and dry felting methods
by Pat Spark
Includes chapters on felting needles; materials and equipment; hints for working with the needle; Making a base for a face; Making a face; 6 special projects. Many excellent photos. This is an excellent book for the beginner or expert alike from one of the Guru's of felting. 63 pages.
$26.00 plus postage
----------------------------------------------------------------------------------------------------------------------
New felting book !!
The Felting Needle:
further fantasies, second workbook from Ayala Talpai
Includes chapters on tools and materials, washing wool, basic maneuvers, flat items, Projects including animals, armatures, folks, foam core babies, darning socks and much much more. Lots of whimsical felted folk photos and great drawings. 96 pages, from the first needle felting Guru.
$17.00 plus shipping
------------------------------------------------------------
Needle Felting
Art Techniques and Projects
by
Anne Einset Vickrey
with Patricia Spark and Linda Van Alstyne




This is a wonderful new book on needle felting written by Anne Vickrey, (who authored the wonderful wet felting book The Art of Feltmaking), Pat Spark (felting Guru) and Linda Van Alstyne. Anne has produced a book that is well written and easy to understand. She introduces you to new techniques and further understanding of this art and craft.
The books covers:
1) An introduction to needle and dry felting
2) Safety tips
3) Equipment and materials,
4) Flat felting techniques with 2 easy projects, a heart and a star.
5) Pictorial felting techniques with Pat Spark including needling onto a prefelted background, making prefelt, designing on the prefelt and wet felting the design.
6) Sculptural Needle felting techniques including making basic shapes. Projects include making a bear, building a face and then a sun face.
7) Needle Felting Techniques with Linda Van Alstyne includes needle felting a human figure, making the body, the hands and feet and a 3 dimension head.
8) Wet and dry felting techniques with the project of making a fairy doll.
9) Making a Scandinavian elf with Pat Spark.
10) More projects to hone your skills: Shooting star, Puffin, swan, Fantasy flowers, Lamb, Monkey, Tiny animals, puppet theatre setting, and masks felted onto a background fabric.
11) Wool related vocabulary, sources of equipment and wool and a gallery of ideas.
Books are signed by the author.
Spiral bound they open up flat for usage and printed on heavy paper. This is a great book for your library and inspire you to make items that will help you value add your fleeces by making items that will sell readily.
$16.95 plus postage

---

By Ayala Talpai
(Book 1) The Felting Needle from factory to fantasy
working wool without water & related matters
With felting needles enclosed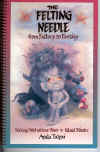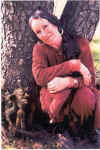 Introducing the felting needle! ...a little tool adapted from industry for various hand felting and doll making procedures. This engaging book is written for a wide range of skills & ages and seasoned with asides from its author (a woman over 50). within you'll find instructions for set-up, for safety, for situations where only a felting needle can prevail, and a supply of the felting needles themselves.

This is a wonderful and clearly written book on using felting needles to make all kinds of fun things. Lots of fun. The book includes an explanation of the felting needle; Cautions and setting up; needle play; first project; decorated surfaces; sheep clutching a star; 3-D sculptured forms; making entire people; enhancing wet felting projects; and much more. The book includes 4 felting needles to get you started.
You may order this book from us with or without your felting batt order
The price is $17.00 plus postage
(Book 2) The Felting Needle Further fantasies a 2nd workshop by Ayala Talpi
This volume is a companion to the first book and covers more advanced techniques. It also includes: How to find wool; How to wash it; How to dye it; How to shape it; Combining wet felting and needlefelting; Basic maneuvers; Flat items; Animals; Animal armatures; Needle felted wee folk; Holiday projects; Foam core babies; darning socks using needle felting; ordering felting needles. and much more.
$17.00 plus postage
Read more about Ayala or contact her for teaching workshops on her website www.fiberfanatics.com

---
Felting Needle sample pack
Five different types of felting needles. Each is for a different kind of use. The packet explains each and how it is best used.
$11.00 per pack
---
WOMEN THAT INSPIRE US: Two young women who have taken Icelandic fiber and are working miracles.
Maggie is a nurse in WV who works 12 to 16 hour shifts in the intensive unit at a hospital near by. She is burning out and desperately wants to work toward an alternative income source that is not part of the rat race. She inquired about Icelandic sheep and bought a starter flock. She took to felting like a duck to water and started making purses to sell. This spring her purses were accepted to the exclusive craft outlet for mountain crafts in the WV area. This is a great honor for a first time crafter. She received her first big order. Maggie is on her way to a full time on-to-farm job that is saner and slower paced and just what she had in mind!!. Good work Maggie. below are some of Maggies felted rugs! Wow! contact her at scf@kvinet.com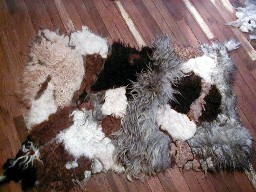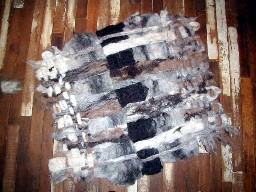 Two samples of Maggie's felted rug work
222222222222222222222222222222222222222222222222222222222222222222222222222222222222222222222222222222222222
Loree lee Harper is a new felting guru who was introduced to Icelandic fiber and needle felting in February at Stitches West when she bought a felting book and fiber from us. This stunningly beautiful and talented woman has taken felting to new levels. Her first creations are marvels of craftsmanship. She started with bunnies that are so real that they make you laugh. She is now exploring polar bears. Her pieces are museum quality!! She has a bright future in felting!! In her "other" life Loree does aerial stunt work. See her website at www.StuntFX.com
---
Felting Books to learn from
Get these books from your local library and check out others they might have. Be sure to ask about inter-library loan if they don't have them. You might also find them on eBay or Amazon.com

The Art of Feltmaking by Anne Einset Vickrey
Lots of fun and easy projects
New directions for Felt an ancient craft by Gunilla Paetau Sjobers
Great idea book and inspiration for projects
Fundamentals of Feltmaking by Patricia Spark
A great basic skills book, very through for the serious felter or the person that wants to explore this medium.
Excellent with many illustrations.
Scandinavian- Style Felting: a Three dimensional Approach to Hats Boots, Mittens & other useful Objects by Pat Spark
Hands-on wet-felting techniques and many how-to projects. Excellent book and very popular.
Good skills book with great projects.

Skulpturel Filtning ( Sculptural Felting ) by Birgitle Krag Hansen
Advanced figures, written in Swedish but illustrations are self explanatory. English translation is in the works. Really inspirational. Available from Susan's Fiber Shop N 250 HwyA Columbus, Wi. 52925 1-800-603-4237

How to order: Since many of the products comes in varying weights, orders must be figured individually. We do not take credit cards nor Pay Pal (sorry) but we do take checks, cash and money orders. If you will email (trf@icelandicsheep.com) or call us (417-469-1151) we will figure out your order including postage. Then you need to send a check, money order, or cash to this address Tongue River Farm 5000 CR 4910, Pomona, MO 65789. We will fill your order right away. Thanks for your interest! :)

Tongue River Farm
5000 CR 4910
Pomona, MO 65789
(417) 469-1151
trf@icelandicsheep.com

All photos, graphics, and text:
© Copyright Tongue River Farm, 2002