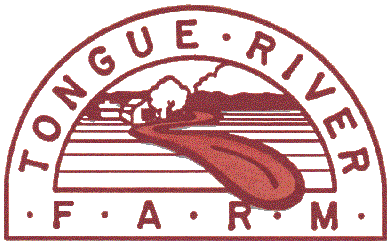 Home | Breeding Stock | Products | Contact Us
Tongue River Farm
Home raised herd sires used in 2007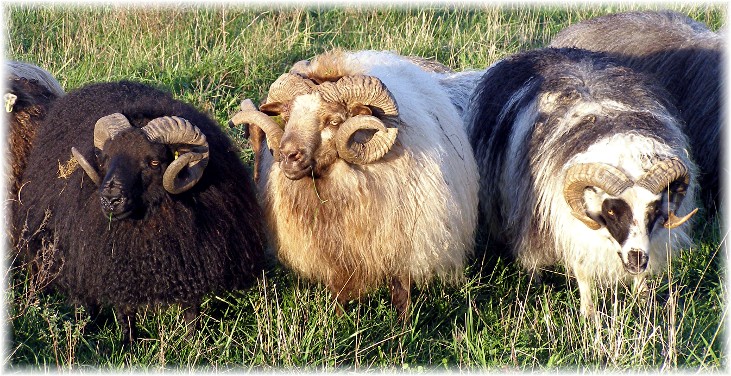 SRX744S-AI Saga by Rector--SRX413P Patriarch (Bambi/Horvi)---SRX867S Superman (Lomji/Horvi/Bambi/Blaevar/Hunn)
-----------------------------------------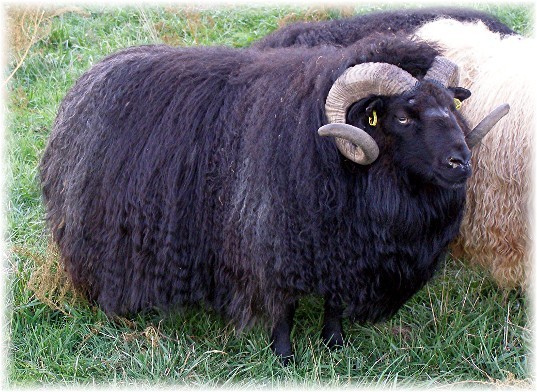 SRX368P "Phantom" black horned single ram. One of the best MacBeth sons ever. He is holding his black color pretty well. he has excellent symmetrical hornset and long thick high quality fleece. His offspring are fabulous. He has a quiet disposition and very square meaty conformation. He is very heat tolerant and parasite resistant. Both parents are AI. NICE ram!! Sire: SRX71M-AI by Bambi (Bambi/Blaevar) One of the most beautiful rams ever. Dam: SRX40N-AI by Stapi (1,1,2,3)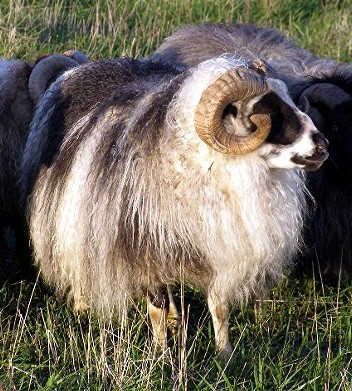 SRX867S "Superman" spotted black/grey horned twin ram. May carry Moorit. Excellent hornset. Wonderful fleece and very square and correct conformation. Nice disposition. I believe that he is the only ram in the USA with Ljori genetics. Sire SRX93N-AI by Ljori (Ljori/Horvi/Hunn); Dam: SRX247P A MacBeth daughter. Prolific ewe and milky (2,2,2) (Bambi/Blaevar/Hunn)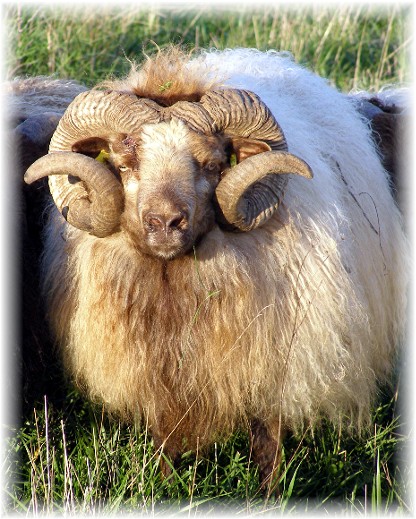 SRX413P Patriarch; triplet moorit badgerface horned ram Sire: SRX71M-AI Bambi (Macbeth); Dam SRX343J-AI by Horvi excellent producer and high milk production. Easy lamber. Heat tolerant and parasite resistant. Patriarch's lambs are stunning. He has great meat conformation, fabulous fleece and excellent horns and disposition. He carries the AI genetics of Horvi/Bambi/ Blaevar/Old Mori and STS616 One of the most productive ewes ever.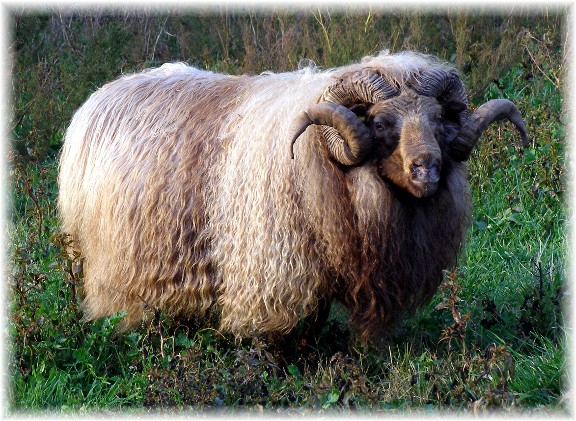 Neptune SRX59N-AI Kani Moorit/grey horned twin ram. Neptune has a fabulous silky lustrous fleece and excellent horns as well as excellent conformation. He has passed on these excellent traits to his many offspring. He just keeps getting more beautiful each year. Heat tolerant and parasite resistant. Sire: Kani 98864 Iceland sire; Dam SRX706K.
------------------------------------------------------------------------------------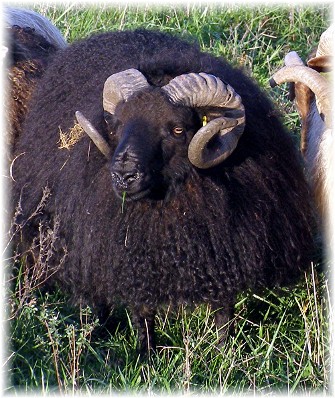 SRX744S-AI by Rector "Saga" Black horned twin ram. Carries moorit and spotting. One of the widest deepest bodied lambs ever born on our farm. Excellent meat conformation. Excellent wide symmetrical hornset. Fabulous, very black fleece. Holding it's very black color. Quiet disposition. His first lambs are excellent. Sire: Iceland Sire Rector, said to be the best colored sire ever in Iceland (see Iceland Sires page for photos and description). Dam SRX281P Easy lamber, excellent milker; has many triplets in her background. (Hnykill/Askur/Flekkur)
-----------------------------------------------------------------------------------------------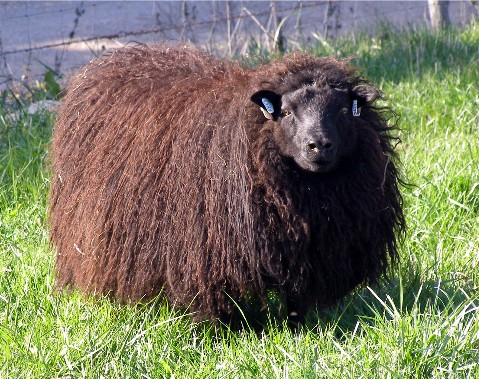 TCE342T-AI by Mori black polled twin ram lamb, carries moorit. Sire: Mori Iceland Sire 02-935; Dam TCE263R This ewe carries many Tongue River Farm bloodlines and AI sires (Eir/Askur/Heli). He has excellent fleece, long body and excellent meat conformation. He is being bred to many of my best oldest AI polled ewes in hopes of producing some colored offspring from many of these great ewes.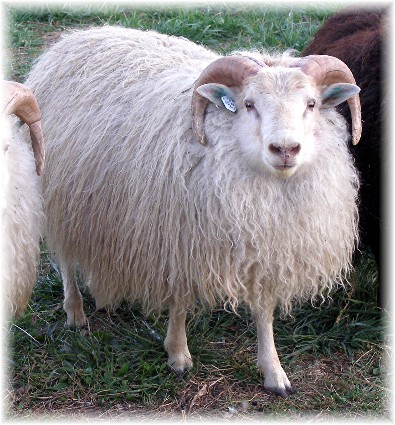 TCE338T-AI by Gaddur, white horned twin ram carrying solid color. Sire: Gaddur Iceland sire; Dam TCE227R a black horned ewe, carrying Tongue River farm genetics of Laekur and Hunn.. He has excellent horn set, excellent fleece, conformation and disposition.
---------------------------------------------------------------------------------------------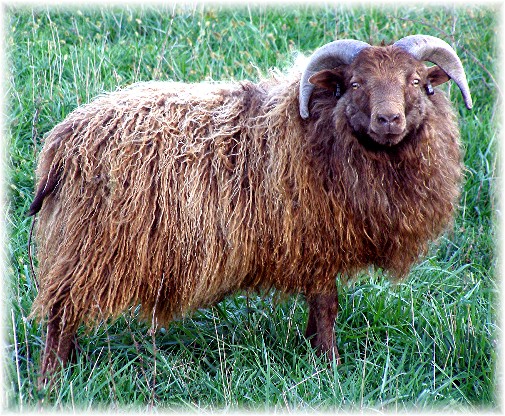 SRX86T "Trumpet" Moorit horned twin ram. Stunning horn set, Fine soft fleece, excellent disposition. Excellent meat conformation. Milky Dam. One of our best ram lambs this year. Sire: TCE228R (Laekur/Hunn) Has high percentage Tongue River Farm breeding. Dam: SRX357P (1,2,2)(Bambi/Blaevar/Bruni/Stubbur)
-----------------------------------------------------------------------------------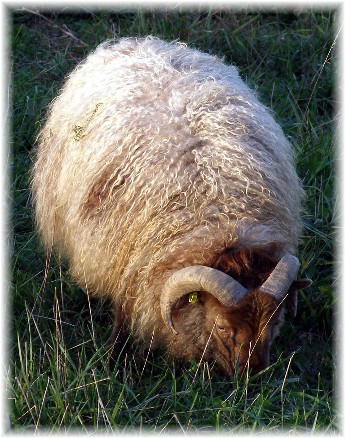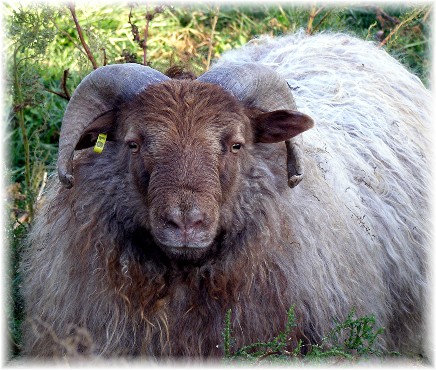 SRX917T "Thunder" Grey moorit twin horned ram. Fabulous fine silky fleece. Long body. Wide hornset, Quiet disposition. Excellent meat conformation; the best hind quarters of all of the ram lambs this year. Sire: TCE228R Laekur/Hunn) High percentage of Tongue River Farm breeding. Dam: SRX623R a gorgeous Neptune daughter with his silky lustrous fleece. Excellent milk production, easy lamber, excellent mother. (1,2) (Kani/Bambi/Blaevar/Stubbur)
--------------------------------------------------------------------------------------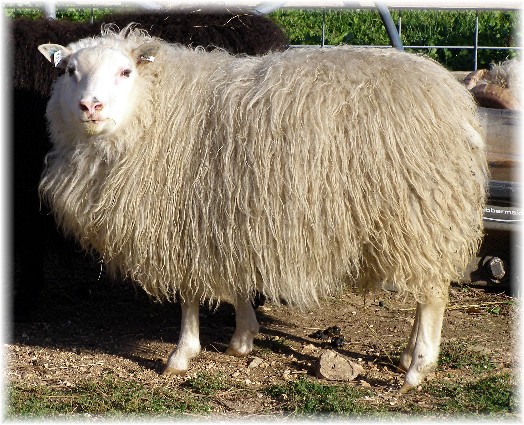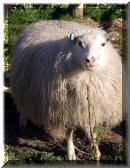 TCE361T-AI by Partur white polled single ram. Carries solid color. Fabulous fine thick fleece. Very square conformation. Excellent meaty conformation with excellent hind quarters and wide body. Sire: Iceland Sire Partur. Dam: TCE210R black polled with a high percentage of Tongue River Farm breeding. (Flekkur/Hnykill/Eir/Heli)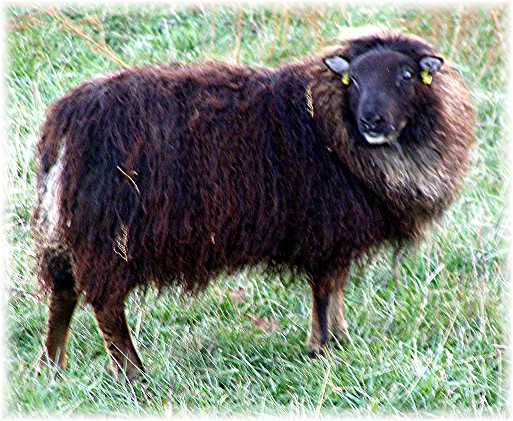 SRX954T Black "Grouflon" polled single ram. Excellent fleece and fabulous conformation, meaty and square. Heat tolerant. One of my best polled ram this year. Both his dam and sire are AI. Sire: SRX53N-AI by Sonor "Nebula". One of the best polled rams I have ever raised. Champion material.(Sonor/3D/66Z) Dam: SRX742L-AI by Hnykill.(2,2,2,2,1). triplet. milky, easy lamber, fabulous conformation and fleece. (Hnykill/3D)
-------------------------------------------------------------------------------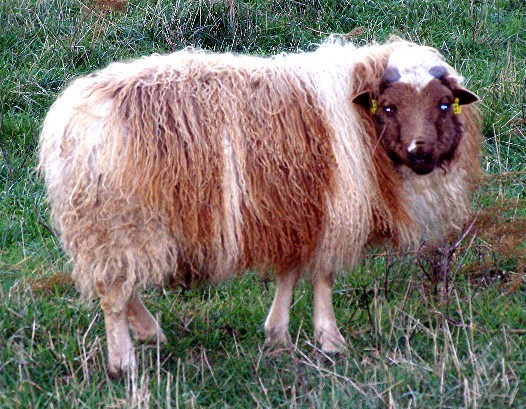 SRX963T "Tiger" spotted moorit single ram. Excellent thick fleece. Excellent spotting pattern and quiet disposition. Excellent square and meaty conformation. Heat tolerant! His dam's dam is one of the best Saddleback daughters ever. Sire: SRX862S My best polled ram in 2006. His breeding reflects the best of my breeding program. (Austri/Vestri/Hnykill/616F/Hunn/Dalur/158G). Dam: SRX367J-AI by Skreppur triplet. Her dam is a Saddleback daughter. (188Z/159Z/Saddleback) One of my oldest and best AI ewes (0,2,2,2,2,1,1)
666666666666666666666666666666666666666666666666666666666666666666666666666666666666
Sires used in 2006
TCE258R spotted moorit 2 year old twin ram. Proven sire. Excellent meat conformation and wide horns. Fine fleece. Nice spotting pattern and throws nice spotting in his lambs. Has the same sire as the National Champion ewe in 2006. This is a fabulous ram. His offspring are excellent with excellent hornset. Easy disposition. Sire: SRX802L-AI Laekur ; Dam: TCE107N (Flotti) $1000.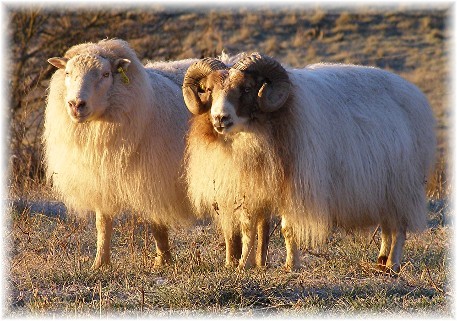 TCE258T pictured with SRX77M-AI Austri
Herd Sires used in the Fall of 2004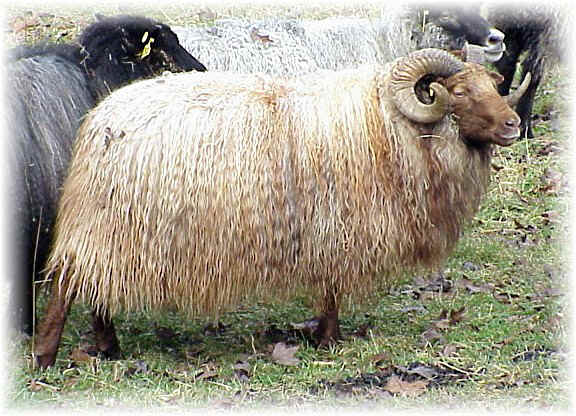 "Neptune" SRX59N-AI by Kani
SRX59M-AI "Neptune" by Kani. He is a twin horned grey moorit 2 year old. His dam is SRX706K who has lovely horns and one of the loveliest fleeces I have ever had in my flock. Her lambing record is (1,1,2,2). She is very milky and an easy lamber and has excellent conformation. Dam's pedigree brings in many of the early old imported lines that were brought in by Stefania Dignum. His sire Kani is a son of Molur another AI sire of note. Kani is a horned moorit mouflon was brought into the AI station in Iceland in order to improve the horned colored stock in the US and Iceland. He has excellent horns and all over score for conformation."Neptune" is square has excellent conformation and a fabulous fine soft fleece. His horns are perfect and symmetrical. He has a quiet disposition and is a gentleman with his ewes. He is bred to most of my horned ewes this year. He easily settled them in their first heat. Fabulous ram!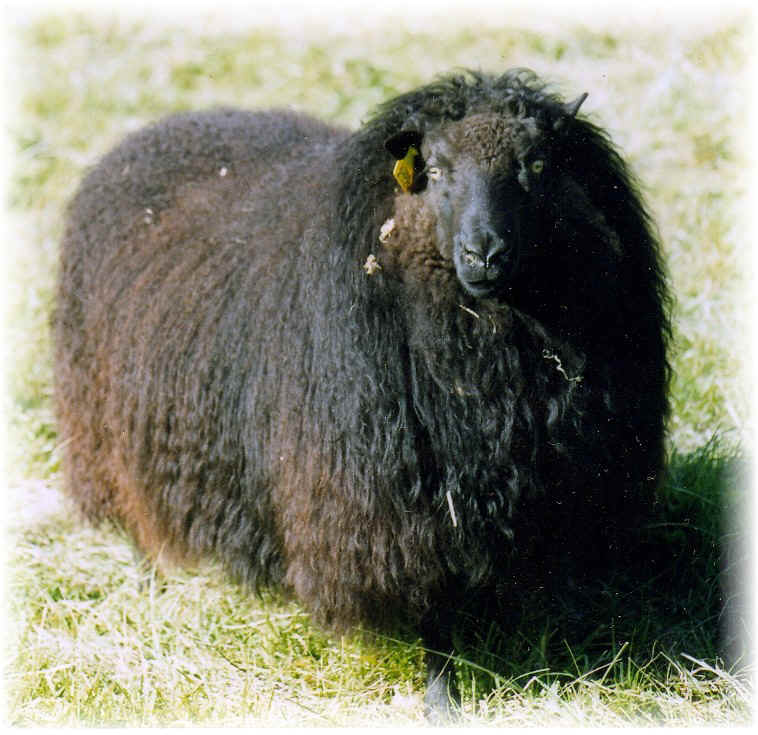 SRX141M-AI by Flekkur
SRX141M-AI "Man-O-War" by Flekkur. This very black AI single polled three year old is one of the tallest/biggest rams in my flock. He is completely polled, and is keeping his very inky black non-graying color. His fleece is excellent with a lot of thel and very long shiny tog. He is alert and quiet. He is a gentleman to his ewes and smart. His first lambs from 2003 are excellent. He carries an excellent spotting pattern and probably moorit. He is long bodied and has excellent square conformation with excellent muscling. By using him I am line breeding the best ewes and rams in my flock (Saddleback/Golsa breeding). His lambs should be spectacular and inherit his long body, excellent fleece and conformation as well as easy lambing, prolificacy and milkiness. Many of my polled ewes are bred to him this year.
His sire Flekkur was clear polled spotted black and weighed 195 lbs long bodied with a long rack and excellent muscling, his dam was 10 years old and had a 200% lambing record. Flekkur's daughters are prolific and very milky. The Flekkur daughters in my flock are big, milky and prolific with excellent spotting patterns and easy lambing.
Man O War's dam is SRX448J whose lambing record is (1,2,1,2,1). This lambing record reflects the fact that she has been AI'd several times which eschews her true productivity. (AI can cause more or less lambs than the ewe would usually produce if bred naturally). Her sire is STS3D (Mocum) who is a Saddleback son. Her dam is STS45D a Golsa daughter and one of my best and most productive ewes. This is the best breeding in my flock. Dam is of excellent conformation, and easy lamber and has excellent udder and milk production.
Herd Sires used in 2002
| | | | | | | | | |
| --- | --- | --- | --- | --- | --- | --- | --- | --- |
| Scp# | Flock # | Name | Bth | H/P | Color/pat | Sire | Dam | Comments |
| | | | | | | | | |
| --- | --- | --- | --- | --- | --- | --- | --- | --- |
| 1861 | SRX836L | Laddie | 1 | h | gr/mor | SRX512K-AI | SRX706K | |
| | | | | | | | | |
| --- | --- | --- | --- | --- | --- | --- | --- | --- |
| 1720 | SRX768L-AI | Landseer | 2 | h | wt/ph | Laekur | SRX394J | |
| | | | | | | | | |
| --- | --- | --- | --- | --- | --- | --- | --- | --- |
| 1724 | SRX774L-AI | Landmark | 4 | h | white | Morro | SRX334J-AI | |
| | | | | | | | | |
| --- | --- | --- | --- | --- | --- | --- | --- | --- |
| 1751 | SRX802L-AI | Lair | 2 | h | white | Laekur | SRX455J | |
| | | | | | | | | |
| --- | --- | --- | --- | --- | --- | --- | --- | --- |
| 2563 | SRX65M-AI | Macarthur 0070 | 2 | h | white | Sponn | SRX645K | |
| | | | | | | | | |
| --- | --- | --- | --- | --- | --- | --- | --- | --- |
| 1717 | SRX765L-AI | Laredo | 3 | p | bl/bad | Buri | SRX22F | |
| | | | | | | | | |
| --- | --- | --- | --- | --- | --- | --- | --- | --- |
| 2572 | SRX95M-AI | Magnific | 3 | sc | spt/bl/gr | Vestri | SRX441J | |
| | | | | | | | | |
| --- | --- | --- | --- | --- | --- | --- | --- | --- |
| | SRX141M-AI | Man-O-War 0037 | 1 | h | black | Flekkur | SRX448J | |
| | | | | | | | | |
| --- | --- | --- | --- | --- | --- | --- | --- | --- |
| 2559 | SRX167M | Megalith 0008 | 2 | p | bl/bad/grouf | SRX743L-AI | SRX508K-AI | |
| | | | | | | | | |
| --- | --- | --- | --- | --- | --- | --- | --- | --- |
| | SRX178M | Melee 0039 | 1 | sc | homz.bl/gr | SRX528K-AI | SRX788L-AI | |
| | | | | | | | | |
| --- | --- | --- | --- | --- | --- | --- | --- | --- |
| | SRX236M | | 2 | sc | mor/grouflon | SRX743L-AI | SRX450J | |
| | | | | | | | | |
| --- | --- | --- | --- | --- | --- | --- | --- | --- |
| 1916 | SRX307M | | 2 | p | drk mor | SRX837L | SRX578K | tattoo 807 |
| | | | | | | | | |
| --- | --- | --- | --- | --- | --- | --- | --- | --- |
| 1521 | SRX539K-AI | | 3 | p | white | Askur | STS45D | |
| | | | | | | | | |
| --- | --- | --- | --- | --- | --- | --- | --- | --- |
| 1711 | SRX757L-AI | Laramie | 2 | p | white | Eir | SRX226H | |
| | | | | | | | | |
| --- | --- | --- | --- | --- | --- | --- | --- | --- |
| 2569 | SRX73M-AI | Mach | 3 | p | white | Dalur | SRX529K-AI | |
| | | | | | | | | |
| --- | --- | --- | --- | --- | --- | --- | --- | --- |
| | SRX77M-AI | Macdonald | 2 | h | white | Austri | SRX555K-AI | |
| | | | | | | | | |
| --- | --- | --- | --- | --- | --- | --- | --- | --- |
| 2573 | SRX71M-AI | Macbeth | 3 | h | moorit | Bambi | SRX334J-AI | |
| | | | | | | | | |
| --- | --- | --- | --- | --- | --- | --- | --- | --- |
| | SRX82M-AI | Maestro yt44 1010 | 3 | h | black | Haengur | SRX322J-AI | |
| | | | | | | | | |
| --- | --- | --- | --- | --- | --- | --- | --- | --- |
| 2570 | SRX91M-AI | Magnetize | 3 | h | spt/bl/gr | Flotti | SRX114H | |
| | | | | | | | | |
| --- | --- | --- | --- | --- | --- | --- | --- | --- |
| | SRX145M | Malt | 2 | P | Moorit | SRX837L | SRX22F | |
| | SRX318M | mt0031 | 3 | h | mor/bad | SRX827L | SRX544K-AI | |
Home | Breeding Stock | Products | Contact Us

Tongue River Farm
5000 CR 4910
Pomona, MO 65789
(417) 469-1151
trf@icelandicsheep.com

All photos, graphics, and text:
© Copyright Tongue River Farm, 2002