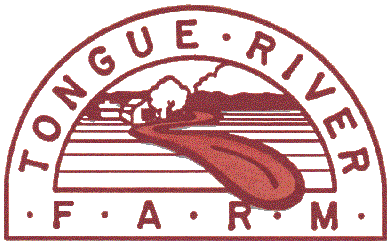 Tongue River Lopi Style Yarn
We sent off our fleeces and had it custom spun into our own high quality yarn.
How to order: Since the yarn comes in varying weights orders must be figured individually. We do not take credit cards nor pay pall (sorry) but we do take checks and money orders. if you will email (trf@icelandicsheep.com) or call us (417-469-1151) we will figure out your order including postage. Then you need to send a check, money order, or cash to this address Tongue River Farm 5000 CR 4910, Pomona, MO 65789. We will fill your order right away. Thanks for your interest! :)
---


Click to enlarge
Tongue River Lopi is a soft bulky singles of 100% Icelandic Sheep Wool. The gauge is 3 1/2 stitches to the inch; 480 yards in a pound. It is warm, light, long wearing, and water resistant. Spun of the dual coated fleece, the outer fibers (tog) provide loft, wear resistance and luster. The undercoat (thel) is fine, provides warmth and softness. When spun together the blend is somewhat like a wool mohair blend. The yarn is fairly non elastic, drapes well and wont stretch out. In fact I have many people call who have Icelandic sweaters made with Lopi that they have had for 20 Years and it still look great and is their favorite.
Use our yarn for any of the classic Reynolds Lopi patterns available through most yarn stores. We have patterns available click here or the link http://www.icelandicsheep.com/Patterns.htm
Our new yarn is available in 4 Natural colors (No dye or bleaches used in processing. These are the natural colors of our sheep); bluish gray, heathery taupe brown, creamy white and very black. It comes in skeins that are approx 1/2 lb. (240 yds.) and sell for-
Light Silver Grey temporarily out
Medium Blue Grey in stock

Creamy White in stock
Milk Chocolate (brown) temporarily out

Very Black temporarily out

$14.80 per 8 oz skein +




click to enlarge
We are now selling our own Sock (sport) weight yarn and our New Lace weight yarn made form our top quality fleeces. Unlike the commercial yarns from Iceland you will be pleased with the softness and luster of these yarns.
These are what other say about our yarn;
"I wonder why I continue to spin when I see yarn of this quality being produced." Beth Abbot. Master Spinner and Teacher.
"Your yarn was a hit at the weavers conference. You should do well with it." Judith McKenzie. Spinning instructor, weaver, wool grader, fiber guru.

Be sure to check out the Shearing Days page. Click Here

Tongue River Farm
5000 CR 4910
Pomona, MO 65789
(417) 469-1151
trf@icelandicsheep.com

All photos, graphics, and text:
© Copyright Tongue River Farm, 2002