5000 CR 4910
Pomona, MO 65789

Icelandic Sheep Articles

***note see other articles about Icelandic sheep below

jThe Dancing Dairy Shepherd of True North Farm j

Copyright 2005 by Susan Mongold Briggs / Tongue River Farm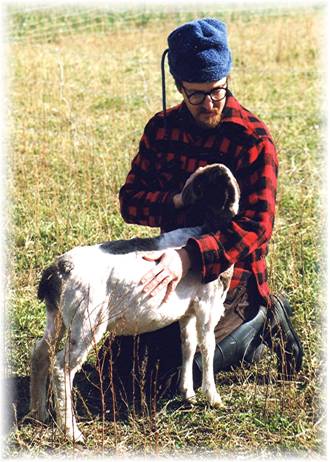 Jim Londagin, shepherd
I first became aware of Jim Londagin when he called to pick my brain about the possibility of using Icelandic sheep as a dairy breed. He had worked on several sheep dairies that had East Friesians and didn't like their health problems, poor lamb survival rate and high inputs of grain needed to keep them milking at the top of their abilities. He thought that perhaps a cross with a heartier breed might work. He soon became intrigued with the Icelandic breed. Jim was a full-steam-ahead person and soon he knew the genetics and production records of every sheep in my flock and in every one else's flock better anyone else. His goal was to put together a dairy flock of Icelandics and have the first commercial Icelandic dairy in the world that would support himself and Harry (his life partner). He told me more than once that his goal was to get Harry out of his city job before it killed him. While traditionally Icelandics have been used as a dairy animal for centuries on farms in Iceland, there has never been a commercial sheep dairy in their home country. j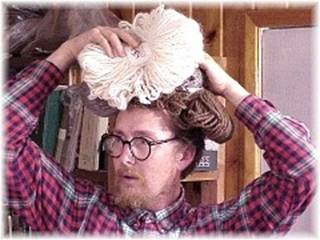 Jim with hat ideas
What many folks did not know was that before Jim's sheep career started he was a professional dancer, a very good one, a ballet dancer classically trained by The New York Ballet which is one of the best ballet companies in the world, and that Jim was selected for this training at the age of 16 from hundreds of young hopeful dance prospects. He was one of the youngest ever selected. But Jim, the young man from California, was determined, dedicated, motivated and got his chance to dance. And dance he did, in the US, Europe and Canada until eventually his body gave out as happens to most ballet dancers. Dancing is brutal to the body. He progressed to costume design at Bard College using more of his creative talents and then ran a whole food restaurant in Greenwich Village. He spent a stint in the Navy and then became a Buddhist Monk in training at a Monastery where he was the cook. At some point Jim decided that he needed to do something different and realized that what he wanted to do was to be a dairyman/farmer. He tried his hand at milking cows and then discovered sheep. He apprenticed himself to several sheep dairies for a winter and learned the business. It was then that he contacted me about sheep. He had to convince his life partner Harry Kelley, who was at that time one of the vice presidents of the biggest advertising firm in the world, that it would be a wonderful idea to milk sheep and live in the country. Harry slowly grew to love the idea and really got interested in the fiber end of the business. Harry was already an accomplished knitter and he took to spinning and fibers like a duck to water. j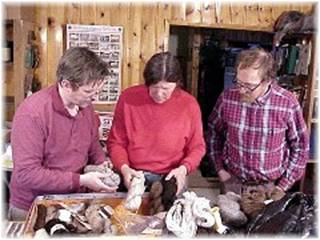 Harry and Jim look over my Icelandic yarn collection
The plan was for Harry to continue working and bankroll the project until the farm was able to support them both. Soon Jim and Harry had a farm rented, put together a small starter flock and had a milking parlor and equipment set up to start milking. That was the start of True North Farm. Jim started reseeding the neglected farm fields with clovers and improved grasses for a dairy sward and set up a rotational grazing system. When the farm water well was found to be unsuitable for dairy use and the owner wouldn't drill a new one Jim and Harry decided to find a new home for their flock and dairy. j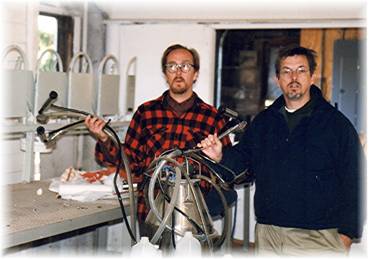 First milk parlor set up
A partnership with Harry's sister Mike Kelley and her husband Ron Kittel resulted in a new True North Farm in the Catskills on top of the mountain with a fabulous view. The property included an old resort hotel and an apartment building. The fields were neglected and unfenced but promising. The view was spectacular. While the new farm was being renovated Jim learned more about milking, dairying, cheese making, sheep genetics, pasture management, rotational grazing, sheep nutrition, and all related subjects. He put on lambing seminars, and help put on the week long Judith Mackenzie fiber workshop at the farm making all of the meals himself for the participants. (Did I mention that Jim was a gourmet cook?) He also worked with a series of interns teaching them what he knew and infecting them with a love of the sheep and dairy. He had so much knowledge to offer those that wanted to learn. With his lanky frame and supple body you could tell by the way he moved that he had a dance trained body. He was always positive and rarely depressed or discouraged. He was funny and playful and would make the most interesting costumes from ordinary things. He would turn a purse into a stylish hat, a few common food ingredients into gourmet fare, some cull fiber into designer yarn. He had unlimited energy and ran circles around everyone. He was also deeply religious and practiced his beliefs. He was driven and in a hurry to achieve his dreams of a sheep cheese business. Even when things later on looked grim he kept his hopeful attitude and had a "can do" attitude. He identified milky lines in the Icelandic breed and set out to develop these lines. He knew every one of his sheep and every nuisance in each one's behavior, conformation and performance. j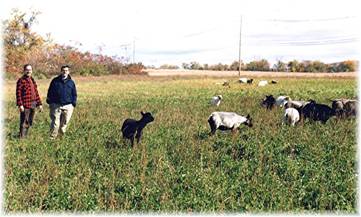 Jim and Harry with their first flock on dairy quality fall pasture.
He wanted to start making progress fast but could not bankroll a large purchase of sheep to get started. Undaunted by this roadblock he asked me if he could lease a group of ewes from me to get started. I knew that this would be a gamble, but if Jim were successful in proving the value of the Icelandic sheep as a dairy breed this would pay big dividends for the breed as a whole. So I leased Jim and Harry about 40 ewes. Jim and Harry drove across country from New York to Montana in an old truck and trailer non-stop. For both of them it was the first time they had seen the west and they were awed by the huge open spaces of the Dakotas where you feel dizzy from the unending horizons. They packed the bred ewes in the trailer after resting a day and started home again non-stop. Jim drove all of the way. That was typical of how focused he was. j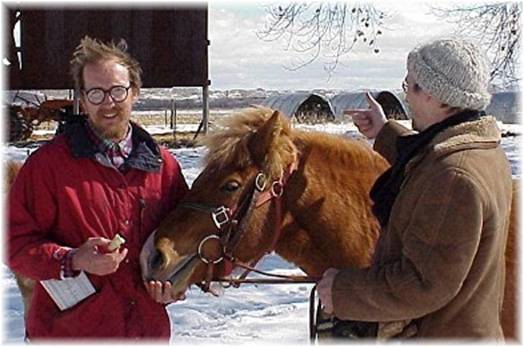 Ready to ride an Icelandic horse in Montana
He seemed to always be in a hurry to push the farm on toward the goal of self-sufficiency and eventual profitability with a cheese making operation. No two people I knew had more potential than this team of Jim and Harry. With Jim's enthusiasm and drive, knowledge about sheep, dairying, costuming and food and Harry's knowledge about advertising, language and fiber they were an unbeatable team. However, soon difficult illnesses threatened Harry's health, life, profession and income and he was forced to retire. Jim pushed on as much as he could with drastically decreased finances. But he managed to milk the sheep, import semen from Iceland and use that semen to improve his flock. I provided him with some excellent AI rams that showed promise for milkiness. j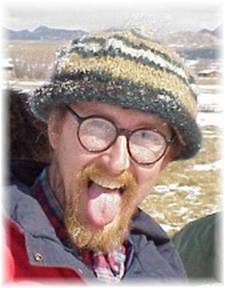 Jim wears the handspun, hand knitted, hand dyed hat that Harry knitted for him
There was more to dairy ewe selection than just milkiness. Jim found that the ewe had to also be of the temperament to relax in the parlor and let down her milk fast, readily and completely. He found the Icelandics easy to train to the parlor routine. The ewes learned in just a few sessions where to come in and just what to do to get the grain reward in each slot of the stanchion. Udder conformation was critical in insuring that the udder would milk out completely. Icelandics had good dairy udders, for the most part, that emptied out without lifting the bottom of the udder. Ewes that would graze readily in the hot summer and keep milking through the heat were selected from the flock. Ewes that allowed their udders to be handled without getting upset were also selected for use in the parlor. Jim soon found out that the milk that the Icelandics gave from dairy quality pasture and little grain was of the highest quality. The cheese maker at Old Chatham where Jim sold his milk for 3 years said that the milk from the True North Icelandics was the finest sheep milk that he had ever used. It had high butterfat and solids, and a low somatic cell count. It yielded a larger amount of higher quality cheese per gallon when compared to the milk from the East Friesians. Old Chatham paid Jim a premium for the high quality of his milk. j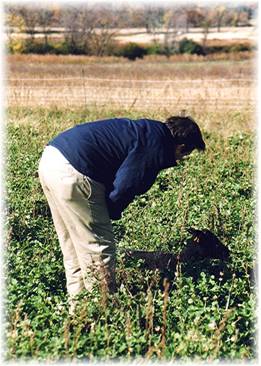 Harry inspects a resting ewe in lush fall dairy pastures that Jim planted
A New dairy barn was built on the Catskill mountain farm and the pastures reseeded. That first year on this farm the first milk was shipped to Old Chatham for processing into cheese. The plan was to get a cheese making room as well as a cheese ripening room built. These plans were slowed to a crawl when Harry's health took a sudden bad turn and he was unable to work and bankroll the start-up operation. Without this input of capital, progress on the dairy was slow and difficult. Finally the partnership dissolved when the 4 partners found that they had different visions of which way to proceed. Jim and Harry left the farm with a contract to buy another farm within a few weeks. The farm in Massachusetts was difficult to close on as the owners vacillated for another year about whether to sell or not even though they had signed a contract. Meanwhile the flock was farmed out at many different places in the Massachusetts area. Keeping the flock contained and alive became a full time job for Jim as he chased sheep through the woods and rescued them from quicksand bogs and coyotes. Lambing was worse as there were only primitive facilities on the temporarily pastures where the flock was parked. I remember talking to Jim when things looked so grim and it looked like he and Harry wouldn't get the farm and financing etc and he was still balancing on top of that pile of woes (the ballet training must have helped) and he said "I know of nothing else to do today but to just get on with those things that I can do today like round up the sheep that have gotten out of the fences and call the finance company yet again." j
I had called to get some strength for the problems that I was going through with the move to MO and the hard task of going it alone in my first year. I never got too much chance to tell him my woes but I got what I had called for in the message that I should just go out that day and do whatever it was that needed to be done that I was able to do. I also felt that my problems were small compared to what Jim was going through (you know the parable of the man who feels sorry for himself cause he has no shoes till he sees a man that has no feet). And Jim was that man with no feet for me and yet he was still dancing through life managing somehow to stay focused on the goal and on the good things in his life. I hung up the phone and felt grateful to have such a wonderful friend as Jim who didn't even know that he had helped me. j
Finally the purchase of the Massachusetts was completed and Jim and Harry moved the sheep to their new home and started the process of setting up the True North Farm dairy again for the third time. They spent 1 month of relative bliss at their new farm until one night Jim did not come back from doing chores and Harry went to look for him. He found Jim underneath a big round bale already dead. j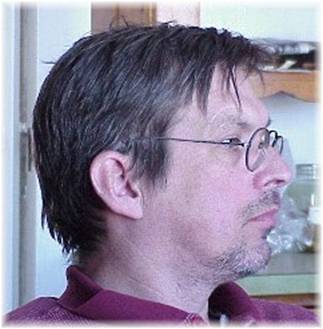 Harry
Harry wrote to his fiber list this poetic and poignant message the next day:
Subject: We Do Not Lose Heart by Harry Kelley
Did anyone see how bright the stars were last night?
Weep, too, for the beauty of the stars.
Did anyone hear me calling for Jimmie when I couldn't find him? The stars did.
Orion hovered over us
A ton of hay. When I found him he was under a round bale that had rolled down the incline somehow.
A neighbor and I got the bale off. I knew immediately why the stars
were singing so clearly in the dark, cold, life-giving night.
I did the resuscitation routine while waiting for those who come to come.
I knew it wasn't going to resuscitate him. But for a half hour I wrestled with an angel who asked Orion to give her room to take me on.
Many people came and wept. And before the shuffled mortal coil left the beautiful farm where we lived a month with so many wonderful sheep, we read a Psalm, anointed his head with oil, and sang Amazing Grace.
When you finish spinning the skeins, and weaving the thing that loves, it goes away.
Our last month was so perfectly happy. Sing ye wheels and whirl ye spindles, for the
kindness of the Heart of All Compassion gave us fathomless blessings in these last days.
Did you hear the watch dogs barking? One by one they came over and sniffed the shepherd, and then moved paces away and crouched in silence.
I am planning to have a funeral--I hope on Saturday but someone will post when the date is set--here at the farm.
We'll build a coffin in the next day or so from scrap wood around the farm and go out to the creek to do as the ancestors insist we do and what our hearts can muster.
I am plunged deep into the heart of mercy now. I grieve, but I cannot see this as accident or tragedy. Only life. Only life. More life. More and more life. And unending life. And resplendent life. And the painful washing of my eyes, and the spill of sorrow on my cheeks are the spring rain. What cannot be gratitude is gratitude.
How can anyone have been as blessed as I have been.
Remember when we sang at Marge's funeral, Jimmie? From the Russian Burial Prayer? "Even in the grave we make our song: Alleluia, Alleluia, Alleluia.
Did you see? Did you see the sky?
Quill (Harry)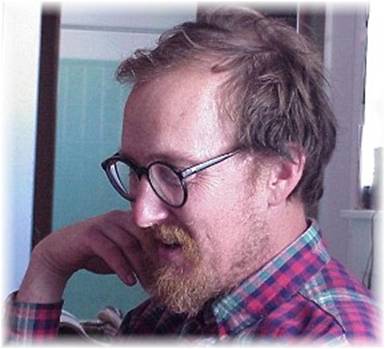 Jim
A call from Barbara Webb the next morning jolted me out of bed when she relayed the news about Jim. For the whole day I was in shock and denial. NO this couldn't be, NO this was a cruel trick, NO I wasn't ready to lose Jim, NO Jim had so much to give us and this knowledge would now be lost, NO just when Jim and Harry were finally on their new farm and the dream was just starting to take off again…… yet again…. in a new start… ("third time is a charm!") …. NO! NO! NO! …. L I called folks all day long and wept with them at our loss. j
The Icelandic and dairy sheep world was stunned and distraught with grief over Jim's death. Folks showed up from far and wide to come and help to care for the sheep and Harry, to say goodbye to Jim and do what they could. The funeral was a unique event. Before the funeral the coffin was placed in the sheep pen where it seemed fitting for Jim to be in the company of his beloved sheep. Friends made his casket with old barn boards found around the farm. Friends carried his coffin to the river to say their goodbyes. Actors, performers and dancer friends from New York City and drag queens with electric blue eyebrows came along with many priests and clergymen and the more conservatively dressed farm folk, neighbors and shepherds each participating in the ceremony with poems, stories, and song. There was laughter and a lot of tears. The ceremony was beautiful and memorable and later Jim was cremated. I don't know where his ashes will be scattered but I picture them being released on a high hill in a lovely sheep pasture somewhere. j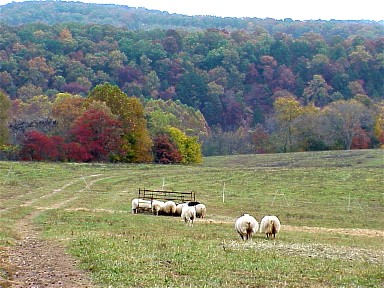 …..Still pastures

After the funeral was over the plans were started to sell and disperse the flock. Being "homeless" for a year in trying to buy the new farm hadn't helped the record keeping. So Jim's records were few, fragmented, and in disarray with some still packed away from the move. He had kept many of his records in his head. His Scrapie Program status had not been updated since his move from New York to Massachusetts and many lambs had not been tattooed or Scrapie tagged. Again the Icelandic breeders community and friends showed up to address this difficult situation as Jim was well loved and respected. Many breeders who couldn't come and help sent money to buy hay for the sheep. Hay was found and friends volunteered to stay on the farm to feed and care for the sheep. Others volunteered to come for tattooing, identifying and sorting the sheep. Elaine Clark and Barbara Webb, two Icelandic breeders generously volunteered their time to list the sheep and be in charge of the dispersal. An auction was held online to disperse the flock once the federal vets were satisfied with the flock's state of compliance. Trailers came from far and near and the sheep went off to the many new homes of the high bidders. Luckily some of Jim's milkiest ewes went to Mary Falk who is a dairy shepherd and artesian cheese maker. She will continue Jim's work in selecting dairy quality Icelandics. This will be Jim's legacy. You can rest in peace now Jim for your sheep are going to greener pastures… j

I realize now why Jim was always in such a hurry to push ahead with his plans for the sheep and the farm. Somehow he knew that he didn't have too much time and needed to get things done as fast as possible before he had to leave. Leave… no maybe that is not the right word cause Jim is still here with us in out hearts and thoughts and in our everyday way that we deal with problems. j

Jim taught me to not sweat the small stuff, not to get caught up in the politics and infighting of the sheep world and to forge ahead with my dreams. He taught me that others could not see that dream and there was no use in trying to get them to see it. I am grateful to have had such a wonderful friend as Jim who didn't even know how much he had helped me through the years. He led in the best way by example. His life was a gift to all of us and we were addicted to that loving man and his bright light in our lives. I was so lucky to have known Jimmy.

…. Jim Londagin, Dancing Dairy Shepherd and Friend! j

--------------------------------------------------------

Other articles about Icelandic Sheep

CLICK on the titles in red (below) to read the article

Colour Inheritance in Icelandic Sheep and Relation between Colour, Fertility and Fertilization
by Stefan Adalsteinsson Ph.D. , Journal Agriculutural Research Iceland, 1970 Vol 2, 1 Pg 3-135

A Black-Moorit Mosaic-Colored Icelandic Ram
by S. Adalsteinsson, The Journal of Heredity 1984 vol 75 pg 83-84

Coloured Sheep and Their Products
Papers presented at the World Congress New Zeland Jan 1984 pg 36-41

Icelandic Sheep in Canada
by Stefania Sveinbjarnardottir-Dignum, Black Sheep Newsletter, issue #48 Summer 1986, pg 1,7,8

Icelandic Sheep
by Stefania Sveinbjarnardottir-Dignum, Spin-Off magazine, June 1988, pg 58-9

Reproduction, Growth and Nutrition in Sheep: Dr. Halldor Palsson Memorial Publication
Edited by Dr. O.R. Dymundsson and Dr. S. Thorgeirsson 1989 pg 213

The Icelandic Fleece- a Fiber for all Reasons
by Beth Abbott, Bulletin Magazine of the Ontario Handweavers and Spinners, Winter 1990/ Vol 33 #4

Rettir- The Fall Roundup and Penning of Sheep in Iceland
by Stefania Sveinbjarnardottir-Dignum, The Shepherd, Dec 1990 pg 10-14

Iceland's Fight Against Sheep Diseases
by Stefania Sveinbjarnardottir-Dignum, The Shepherd, Aug 1991, pg 18-20.

Wool Combing and Primitive Fleeces! Icelandic, Navajo-Churro and Norwegian Spaelsau
by Mary Iselin, Black Sheep Newsletter, issue #73 Fall 1992 pg 1,4-12

Leadersheep
by Stefania Sveinbjarnardottir-Dignum, Black Sheep Newsletter, issue 75 Spring 1993 pg 1,5,7

Fascinating Colour and Pattern Genetics of Icelandic Sheep
by Stefania Sveninjarnardottir-Dignum, Blanc Sheep Newsletter, issue 79 Spring 1994 pg. 1,5,7

Icelandic Sheep: One of the Oldest Pure Breeds, Descends to the Vikings
, Record Stockman 1995

Icelandic Sheep: An Old Breed with New Possibilities
by Susan Mongold, Record Stockman, 1996 pg 9

Icelandic Sheep at Home in Montana
by Susan Mongold, Montana Woolgrowers, Sept/Oct 1996 pg 60-61

Icelandic Sheep: An old breed with new possibilities
by Susan Mongold, Countryside and Small Stock Journal, Vol 80 #5 Sept/Oct. 1996

100 Years of Lopi
Knitters Magazine, Winter 1996, #45 vol 13 #4 pg 20-30

Icelandic Sheep
by Stefania Sveinbjarnardottir-Dignum, The Shepherds Journal, July/Aug 1997, pg 11-14.

Color Genetics in Icelandic Sheep
by Susan Mongold, The Shepherd, June 1997 Vol 42 #6, pg 11-16

Knitting a Klukka
by Louise Heite, Knitters Magazing, vol ? no ? pg 26,27

Icelandic Sheep
by Darlene Polachic, Sheep Canada, Winter 1997 pg 3,8

Icelandic Sheep: One of Iceland's Joys
by Stefania Sveinbjarnardottir-Dignum, Record Stockman, Sept. 19, 1997, vol #40 pg 11.

Rare Icelandic Sheep Serve Dual Purpose
by Susan Mongold, Grainews Aug 1997, pg 33-34

A Flock with Golden Fleece
by Raylene Nickel, Cooperative Partners-to enhance farmer/rancher profitability, September 1998, pg 22-3

Icelandic Knitting
by Louise Hiete, Knitters Magazine vol ? #? pg 22-3

Scandinavian Sheep
by Priscilla A. Gibson-Roberts, Knitters Magazine, vol? #? pg 19- 20

THE LEGENDS HAVE ARRIVED: Frist-time Icelandic Sheep Semen Importation Set
by Susan Mongold, Record Stockman ??, Oct. 1998 ??

Three years needed for import AI
by John Halbert, Miles City Star, Dec. 9th, 1998

Sheep AI needs specialized skills, gear and techniques
by John Halbert, Miles City Star, Dec. 9th, 1998

Icelandic Knitting
By Louise Heite, , Page Number 22 Knitters Magazine

Scandinavian Sheep
By Priscilla A. Gibson-Roberts ,, Knitters Magazine

The Icelandic Fleece - a Fibre for all Reasons
by Betb Abbott, Winter 199O; Volume 33; Number 4 issue of the Bulletin, Magazine of the Ontario Handweavers & Spinners.

Tongue River Farm
5000 CR 4910
Pomona, MO 65789

trf@icelandicsheep.com

All photos, graphics, and text:
© Copyright Tongue River Farm, 2002