The Mystery of the Grey-Mouflon as a single gene pattern
by Susan Briggs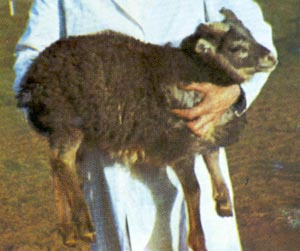 In 1970 Stefán Aðalsteinsson's study entitled Colour inheritance in Icelandic sheep and relation between colour, fertility and fertilization was published by the Journal of Agricultural Research in Iceland. The study was commissioned originally to study how to reliably produce a blue grey pelt for the lucrative European garment market.
In that study, six genetic patterns of Icelandic sheep were identified:
White — A1
Grey — A2
Badgerface — A3
Mouflon — A4
No Pattern (or solid) — A5
Grey Mouflon as a single gene — A6
Grey rams were purchased for the breeding experiments. It was learned from the farmers in a certain area of Iceland that two types of grey mouflon sheep existed, one in which the color was produced by the gene for grey from one parent and the mouflon gene from the other, and another type where the grey mouflon pattern was produced by one gene that had the sum effect of the other two (quotation taken from Aðalsteinsson's study).
These grey mouflon (as a single gene) sheep were found in a flock in Skeidhaholt. When bred to solid black ewes they produced grey mouflon offspring. It was thus determined that the gene for this grey mouflon pattern was a single gene and so numbered A6 by Dr.Aðalsteinsson.
This Grey mouflon single gene (GMsg A6) seems to be a rare pattern in Iceland where the emphasis in the recent past has been on breeding white sheep for the meat and the commercial wool market. So rare is this pattern, in fact, that there is no photos of a GMsg A6 with just this pattern showing (or an animal that carries the GMsg A6 and the "no pattern" A5). All that exists is the photo of a lamb carrying both the grey pattern A2 and the GMsg pattern A6 in the back of the published Aðalsteinsson color genetics book.
So it was exciting when we received notice of a white ram by the name of Hnykill that had been brought into the SOUTHRAM AI station that was described as "carries grey and grey mouflon." His dam was said to be grey mouflon. Since the focus of the AI station is meat production, color genetics is of less importance and errors were sometimes made in in describing the color genetics of a ram as in "carries all colors" or "produces lambs of all colors" (the AI station SOUTHRAM now accurately describes the color genetics of their rams) Hnykill's color genetics description of "carries grey and grey-mouflon was one of these errors. Sheep can only carry 2 patterns and Hnykill was obviously was carrying white (A1) as one of those patterns. He therefore could not also be carrying both the grey A2, and grey mouflon A6 patterns. We hoped that he was carrying the elusive GMsg A6 pattern.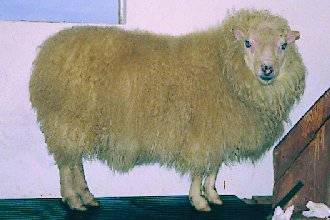 Some farmers in Iceland don't understand the color genetics of their sheep as they are similarly focused on raising white meat sheep. So their feedback to the station as to the color and pattern of the offspring could have been inaccurate. To make things even more complicated many of the sheep in Iceland carry an extensive spotting pattern in order to produce the very white fleece that is prized by the wool mill. It can be difficult to tell the color and pattern of these extensively spotted sheep where the only color or pattern may be just small eye spots.
Was it possible that Hnykill's dam was a grey mouflon as a single gene pattern? We were hopeful.
Hnykill semen was imported into the US in the Fall of 2000 and we inseminated 7 ewes that were A5/A5 (no pattern/no pattern) or solid moorit and solid black ewes in order to determine what Hnykill's other pattern was. 14 lambs resulted of which 9 were patterned and 5 were white.
As soon as the first AI lambs hit the ground it was obvious that we definitely had something quite different. The lambs had so much phaeomelanin in their coats that they looked like grizzled moorits even though they were black genetically and had black skin. Our colored Hnykill offspring all had unusual marking on the backs of their ears in that the bottom ½ of the back of their ear was light in color. (Regular A4 mouflon lambs have solid black on the back of their ears with light inner ears.) (Some grey A2 patterned lambs have this back-of -the-ear light patterning). Extensive light eye rings circled each eye to a lesser or greater degree but all had this marking (usual mouflons have a white marking above their eye and no eye rings). They all had a grizzled look all over the face with sugary lips (usual mouflon pattern is dark black with no grizzled pattern or sugary lips. The fleece had lighter tips of cream or red-brown (usual black mouflons have dark black fleeces at birth. The usual mouflon pattern on the legs was missing or greatly diffused (usual black mouflons have clear brown or cream markings on the inside of their legs). There was a clear break of pattern under their chins.
Below are photographs of the lambs and their unusual patterning (click on each thumbnail to view the full-size image as well as description of the image).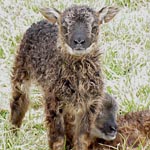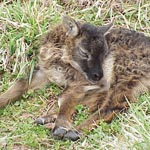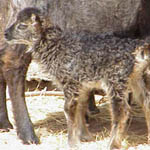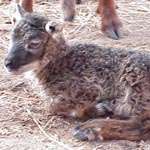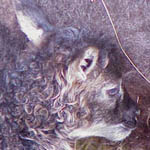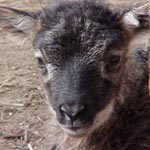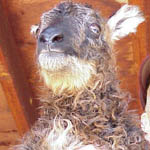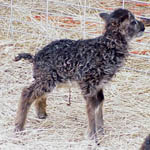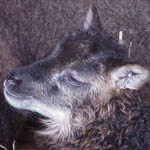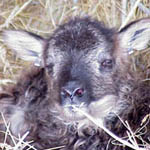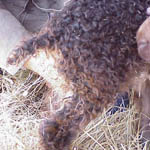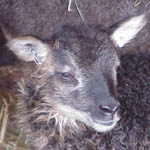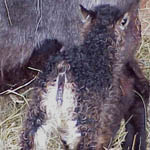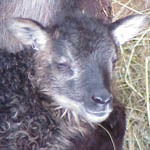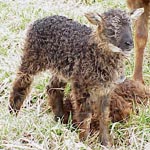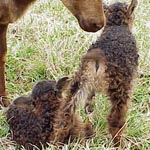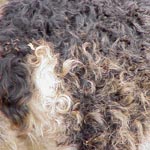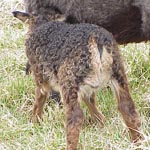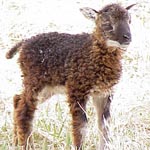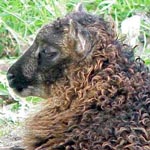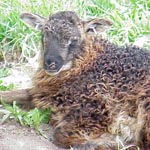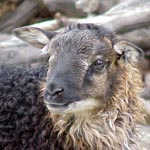 I contacted Dr Aðalsteinsson and told him what we were finding in the lambs. I wrote:
We imported some semen to the USA from the SOUTHRAM AI station in Iceland last Fall. Included were straws of semen from a white ram named Hnykill. His dam was reported to be a grey-mouflon. It was not known at that time whether his dam carried 2 patterns of grey and mouflon or the Grey-Mouflon as a single gene pattern.

We inseminated 8 ewes with his semen. Of those one recycled, 2 solid moorit ewes had white lambs and 5 ewes had non-white lambs by Hnykill. The 5 ewes that produced the non-white lambs are solid black and solid moorit. The offspring of these 5 ewes look like they are the Grey-Mouflon-Single gene. We have photos on our website. Would you take a look and let me know what you think? We are excited to think that we might have the rare Grey-Mouflon pattern gene. Can you help us confirm this?
Stefán Aðalsteinsson replied:
Many thanks for your interesting letter. My view from your story is that you must have obtained a grey-mouflon gene from the semen doses you obtained. The chances of having five lambs the same colour out of five nonwhite ewes are rather slim, or less than 5%.

But you have to wait for the proof that it is the grey-moorit gene you have obtained. That proof will show up when the undercoat is well developed, at the age of about 4 months. Then all these lambs should be growing a nicely grey underwool on the upper part of the body. That is the only correct proof of this type of a gene. The type of phaeomelanin may suggest this and hint that, but until you have demonstrated the nicely bluish grey staple in the underwool, you don't have a proper proof. It will develop a light colored belly and light colored rear and some light face markings above the eyes. These markings should be more pronounced in the grey mouflon lambs.
We started looking for the grey undercoat to appear after a month or so. No grey undercoat appeared. The "grouflons", as they came to be named, had fleeces that turned jet black as they lost most of the phaeomelanin with time. Their appearance changed completely. Each time I worked the sheep, I would examine their fleece closely for an undercoat. Each time the fleece would look jet black clear to the skin. If fact the grouflons didn't appear to have any undercoat or thel at all which was unusual. I lost hope that these Hnykill offspring carried the A6 gene and put it out of my mind.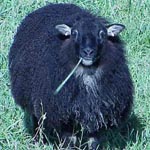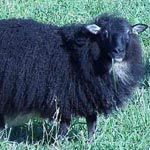 Then, that winter as I was skirting fleeces I had an order for a silvering black. I was skirting a fleece that had just a scant silvering at the bases. The silvering thel was barely noticeable. To see how long the thel was I separated a lock into tog and thel. The lock separated into very black tog and a distinctly blue grey thel (undercoat). The thel was very short maybe 1 ½ to 2 inches, very fine and scarce. I looked at the ID card on the fleece and discovered that this fleece with the fine blue grey undercoat belonging to a Hnykill AI daughter. Now this was interesting!! I found 2 more fleeces from Hnykill offspring and sure enough they also had the very same very short, very fine and uniform blue grey thel and dark black tog. My hopes again rose that this may yet be the GMsgA6 pattern that we had been hoping for. I immediately photographed the lock separated and contrasted it with a silvering black lock from another lamb in the photo and sent the following photo to Doctor Aðalsteinsson for review...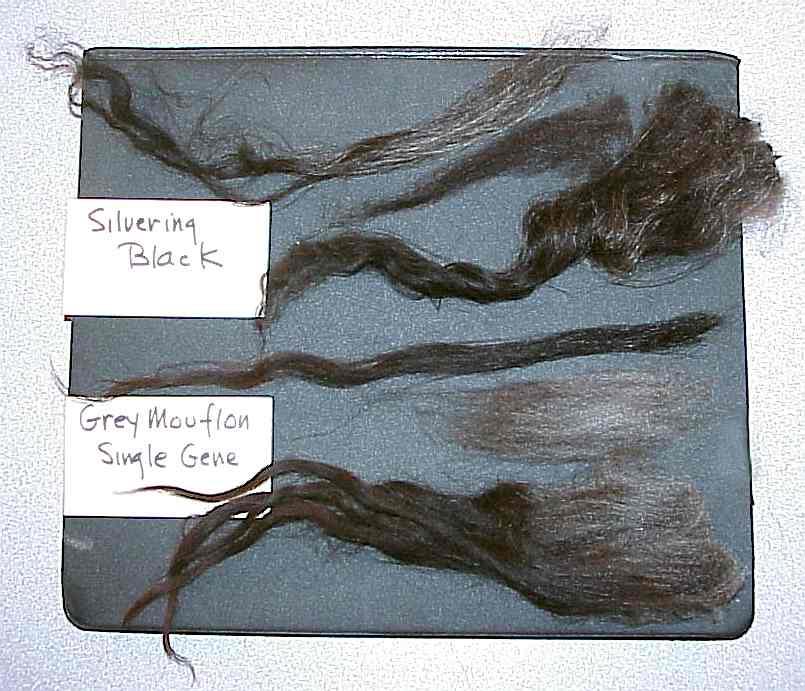 My letter to Dr..Stefán Aðalsteinsson:
I thought that I would follow up my report on the Hnykill offspring from AI semen from SOUTHRAM AI station in Iceland, which I wrote to you about this spring. Hnykill is white and carries a mouflon pattern that we believed was the Grey/Mouflon as a single gene A1A6 .

When I was skirting the fleeces recently, I noted that the thel of the mouflon patterned Hnykill offspring all have this steel grey thel. Their tog is really black with no silvering as you can see in the photos. I have compared it in the photo to a silvering black lamb of the same age. Is this the proof that we need to definitely determine that we do indeed have a Grey/Mouflon as a single gene lambs A5A6? The dams of these Hnykill lambs were A5A5.
Stefán Aðalsteinsson replied:
Thanks very much for your good letter and for the many beautiful pictures.

I think you are right that the lambs you have been describing to me really are grey mouflon lambs carrying the combined grey/mouflon gene. I wish you the best of luck with it.
From this response I felt confident that I should registered my Hnykill patterned lambs as being the Grey Mouflon single gene pattern A6.
But the story didn't stop there. The AI station SOUTHRAM wasn't convinced that Hnykill was carrying the GMsgA6 gene and got other genetic experts in Iceland to look into this for a definitive answer. It was determined by them that Hnykill did not carry the GMsgA6 gene. By that time my Hnykill offspring were registered as A6 pattern. But the following year after reading the determination by the Iceland genetic experts, I registered my "grouflon" patterned lambs as A4 or the regular mouflon pattern and have ever since. Since most of my Hnykill offspring have registered offspring, the CLRC will not allow me to change the coding in the registration name. This may lead to a bit of confusion when folks are doing pedigree research. But this cannot be helped.
Stefán Aðalsteinsson wrote Laurie Ball-Gisch ISBONA president:
This particular color of the progeny by Hnykill seems to have become a very difficult problem. I am sorry if I have not made my points clear enough. I still think that the explanations I gave to Susan Mongold are correct. But there is a possibility that I have not mentioned so far, i.e. that the progeny by Hnykill in fact carried the A4 gene, but due to peculiar linked minor genes which lighten the colour on the upper part of the body they might mimic the grey mouflon gene, A6. As I wrote to Susan, the best proof of an A6 gene is that the staple on the upper part of the body is bluish grey, with the outer coat fibres black and the undercoat fibres white (more or less). Susan in her letter quoted below states that on parting the fleece the grey thel (undercoat) was clearly visible. Has anybody else checked the undercoat on the upper part of these disputed mouflon/grey mouflon lambs at the age of about 4 months? I think that is the only way to settle the matter. Is the undercoat grey then, or is it not?

Best regards

Stefan Aðalsteinsson
The postscript to this story is that while experts in Iceland have determined that this pattern that Hnykill carries is not the rare Grey Mouflon single gene A6, "the Grouflon" patterned sheep are certainly very different than a regular mouflon when born. They are uniformly patterned with large amounts of phaeomelanin and a grizzled look. I will continue to call them "grouflons" standing for "grizzled mouflons" (and not for grey mouflons that we first thought that they were). Meanwhile the rare elusive Grey Mouflon single gene pattern A6 remains undiscovered. Our hope is that Iceland will now hunt for this rare pattern in order to preserve it. Hopefully it has not become extinct in Iceland and we will get this pattern someday via semen from Iceland.
Comparison of Markings of Patterned Mouflons
The table below provides a comparative analysis of the markings of patterned mouflons...
Black Mouflon — A4/A5
Black/Grey Mouflon — A2/A4
Black-Grey/Grey-Mouflon Single Gene — A2/A6
Black Grouflon — A5/A4
(Hnykill Offspring)
Ears
Back of ear black; inner ear light tan, cream or white.
Back of ear can have light markings; inner ear is light tan cream or white.
Back of ear cannot be determined from photo; inner ear light tan or white.
Back lower ½ of ear is light, upper part is dark; inner ear is light tan.
Face
Dark black with white mark above and medial to the eye.
Light eye ring/ grey muzzle/ white mark over the eye.
Very light extensive eye ring around the eye with the lightest part of the eye ring both over and under the eye/ no distinct eye marking over the eye/ light amount of grizzling around eye and on forehead.
Extensive eye ring over and under the eye/ extensive grizzling all over the face especially under eyes and on jaw forehead/frosted lips/ no distinct light marking over the eye/ grizzling fades with time but light phaeo markings remain on the face around the eyes and under the eye and jaw.
Front Legs
Crisp distinct brown or tan mouflon inner leg markings.
Diffuse inner leg markings, nor crisp.
Unable to tell from photo
Diffuse inner leg markings not distinct.
Coat
Born with dark black coat.
Dark coat with maybe a hint of light grey undercoat. may have more or less phaeomelanin.
Dark coat with very heavy phaeomelanin. Looks moorit even though this lamb is a black mouflon.
Dark undercoat with very heavy phaeomelanin so the lamb looks moorit or brown. Coat may have tan or brown tips all over the body? light tipped coat fades with time and lamb becomes dark black by the time the lamb is about 5 months of age.
Feet
Dark coronary band.
Light tan or white coronary band.
Light coronary band.
No light markings at coronary band
Photos

Note unbroken white or tan pattern under chin and neck, dark face, eye markings over eye, no grizzled look to face, no eye rings, clear mouflon pattern on inside of front legs, no phaeomelanin in coat. Note no white band where the hood is connected to the body.

These black grey mouflon lambs are carrying two patterns. The grey pattern A2 and the regular mouflon pattern of A4. Note lack of heavy phaeomelanin in coat, band of light where hoof meets body, eye rings, light cheek patches and grey muzzle and very light inner legs with diffuse (or no) mouflon markings.

This lamb is carrying both the gene for grey A2 and A6 the rare Grey mouflon single gene pattern. Note the heavy phaeomelanin in the coat all over, light muzzle and eye rings, light band where the hoof joins the leg. Dr Aðalsteinsson determined that the GMsgA6 gene was dominant over all other patterns except white. Dominate means that no other pattern would be showing at the same time if a lamb were carrying this pattern. If this is true it means that this is what the GMsgA6 pattern looks like (as the recessive grey gene A2 wouldn't be seen on this lamb.)

"Grouflon" — A distinct sub-pattern of the mouflon A4 gene?