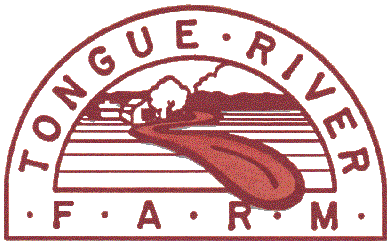 Home | Breeding Stock | Products | Contact Us
---

Tongue River Farm
Newsletter
Winter 2001-2002
News: The year rolled by fast! The Tongue River Farm sheep really strutted their stuff this year. Their fleeces won their class at Black Sheep Gathering, got blue ribbons at Rhinebeck, judged by an Icelandic fiber expert, and won Grand Championship and the Judith Mackenzie award for best primitive fleece at the Oregon Flock & Fiber Festival.
One of our black horned ram lambs, son of SRX319J-AI won Grand Championship over all classic breeds at OFFF.




Champion Ram at OFFF
Best Fleece at OFFF
Grand Champion Ram in the Classic Sheep Division at OFFF
competed with Shetland, Churro, and Jacobs
Judged by Martin Daley
They continued their winning ways by winning 2 Grand Championships and 2 Reserve Championships at the big Rhinebeck Fiber Festival under the judging of Gudmurdur Johannesson from the AI Ram Station in Iceland. The TRF sheep went on to top the sale at Rhinebeck.




results from Rhinebeck Show and Sal

e

Gudmurdur gave us a talk about the AI station in Iceland. This is a summary of that presentation.

Our breeding stock went to new homes in 18 different states and to Canada. We made delivery trips with the truck and our 'circus' trailer to both coasts twice. Our new Dodge Ram truck, which Rex calls the "Lamb Limo" really got a work out.

Our breeding stock is doing very well in the new Icelandic Sheep dairy in New York. www.truenorthfarm.com. Some of our 'girls' were top in production, producing WELL OVER 2 lbs a day average. Icelandics have a bright future as a dairy breed. Their milk is used in gourmet cheese making. The sheep cheese sells for $52/lb and is really delicious! If you are considering starting a sheep dairy, ask about our dairy sheep package deal for purchases of 50-100 ewes.

Bred ewes: We are offering a nice group of bred ewes. All are bred to exceptional rams.

Herd Sires for sale: Most have AI genetics chosen from a ram lamb crop of 100-15- prospects. These rams are the best of the best! Most have won fleece awards, spectacular wide symmetrical horns or are clear polled. All have excellent conformation and high quality meat qualities, all are from easy lambing, high production mothers. We are also offering a few of our best older ewes that are in their peak production years. Don't miss these.




Tongue River Farm
5000 CR 4910
Pomona, MO 65789
(417) 469-1151
trf@icelandicsheep.com

All photos, graphics, and text:
© Copyright Tongue River Farm, 2002